To all my regular readers,
I apologize for the lack of recent posts and I invite you to compete with me in: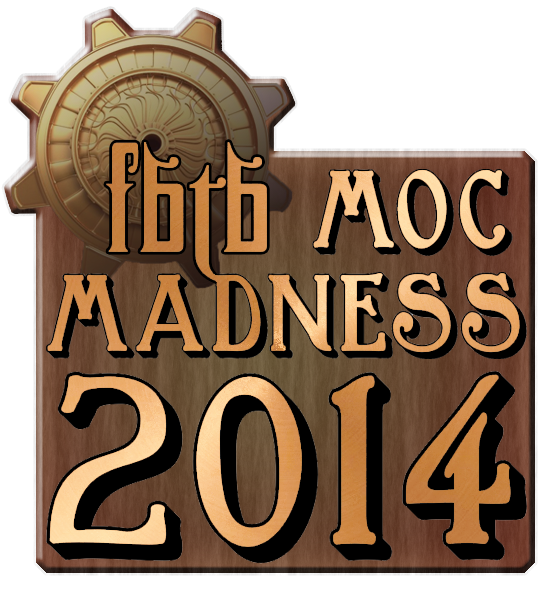 Hopefully you've already seen this and are starting on your own contest entries...
fbtb contest
This is a very special contest for me, I entered the previous Steam Wars back in my College days (Exams pfft) I faced great adversity in the competition. I chose to compete even without my main collection at my side...and so with the meager assortment I had on hand, I approached the competition like a writer...revise revise revise. Sometimes having fewer parts helps to better inspire the builder, (That's what I've discovered anyway) So don't worry about the size of your collection, or whether you have the steampunkiest bits...your parts will inspire your options...follow your intuition and build what you can; if you can't build what you want.
I will be competing, but I don't intend to win, this is merely an opportunity for me to exercise my creative energies in a challenge against the other internet denizens.
To get you inspired I will share my losing contest entry...(no seriously, I got last place in the first Steam Wars voting round.)
First I drafted an idea.
Is it recognizeable? Maybe, but perhaps not. Is it a contest worthy entry...no, not really...but it's a start.
Build time: under two hours.
Phase 2
At this point, the inspiration should be obvious, but can you guess which Star Wars Vehicle this is?
When this model phase was finished I was becoming un-enamored of the rigid propellers.
And those Bionicle Rhotuka Spinners are incredibly fussy to work with. Why'd I use them...why they were the only propellers I had at the time...and by golly I made them stay put. I think they look pretty good, but they took a lot of thinking to keep them in place without ruining the look of the model. The spinners have a hexagonal underside...can't attach them...they had to be floated and braced.
Elapsed build time: 5 hours
3rd phase
There are no pictures of this phase, but imagine the above model with functions added. At this point I was still using the above color scheme, but beginning to realize that brown was not going to be a winning color.
Elapsed build time 8 hours.
Final form
In the end I dropped the brown parts and made red and dark bley (this is bluish grey for people too young to remember the color change) the main color. In my opinion this makes the model really pop. I used almost every silver colored piece I had; and check out those technic bits holding the props. This was the contest entry. My choice of parts for steam was a hack (1x2 white plates!) I didn't have any other good option.
Final build time: 12 hours
Verdict: Worth it!
Odds and ends. With the entry completed I tossed in a few extras for good measure.
This was a ground crew to demonstrate the Steam 1's play features.
Loading coal.
What would a Steam 1 be if it couldn't lay on its back...now you see why those propellers can rotate in their mounting points.
When I think of all the Lego models I've built, this is one of my best. I didn't have all my parts with me, but the result was some of my best work.
Now I'm rising to the challenge again; and I hope you'll join me...I do enjoy a bit of friendly competition.
Brace yourselves...the competition will be stiff.
Sincerely, Cure-all Pill