Behold the chibi monstrosity 6828 Twin Wing Spoiler. A veritable treasure trove of exceptionally good components that does not quite equal the sum of its parts. Is it a hovercraft? Robot? Spaceship? Chicken? Pants? I'm not entirely sure. From the picture it is clear that the primary function of Twin Wing spoiler is not quite walking, not quite flying, maybe it's a jumper (Useless). It's the Futuron theme's jack of all trades master of none study in tedium. Sure I suppose it does something very okay, but wouldn't you rather have Strategic Pursuer if you're hankering for a robot? Or maybe you fancy a spaceship? I suppose Space Patroller has got you covered. What's that? Not enough cool pieces you say, lacking in blue spacemen? Well, Twin Wing Spoiler has got those. That will have to count for something.
The legs sit flush with the 1x2 striped tile
allowing the vehicle to stand without wobbling.
So, I suppose you're all waiting with baited breath for me to tell you about this thing. Okay. Twin Wing Spoiler has four moving sections. Two control sticks, and two wings/legs that look bad either way, but hey, those feet are in a unique color. And that is something, unique parts for cheap, sign me up. The model is little more than a la-z-boy with rockets strapped to it and chicken wings, yes both kinds.
I cannot, in good conscience, overlook a good thing, I don't often photograph the bottoms of these sets because I don't see the point, however, this set has some good work going on with offset construction. It's not often that we see this technique used, but I feel like the Lego company was more willing to use odd techniques in the past, whereas now it seems they develop parts to perform strange connections in an official capacity.
This is the worst model in Futuron, hands down, but as a parts pack it certainly has what the kids want. You get a Blue spaceman, six printed tiles, and thirteen transparent bits. Let it not be said that this set was miserly with its offerings. All I needed to sell it to me was the Blue Spaceman and this train signal bracket in white.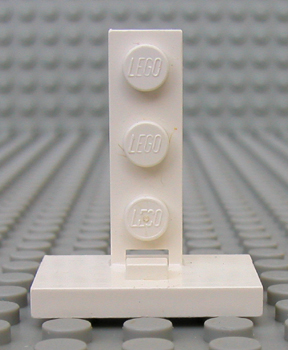 The Grey Train Signal Bracket was released in sets from 1980 to 1987. It was only available in train sets. In 1988 the piece was made available in white, exclusively for Twin Wing Spoiler. The set has two of them. After 1988 it was never released again.
There are no other Futuron unique parts aside from the truly unique part. Sorry. I personally think the train stands are worth it, if only because the full complement of parts makes for a good assortment, and the set is among the cheapest most plentiful Futuron sets in the aftermarket; providing an easily obtained example for the cash strapped enthusiast.
With all that aside I shall now attempt to make something better than the main model.
This is that model, sometimes I do more alternates, but I'm content with this, it's pretty cool for my money.
Final Verdict: C-
Pros: Great parts pack, blue spaceman, lots of prints, great prices
Cons: Confused model design