Well, here's Futuron's Flagship; Stardefender 200. I've looked forward to its arrival for a long time. While it was not my first Futuron set, it was the one that spurred the collection into being, and through my childhood it was the Lego spaceship that held my fascination even as others came and went. It's beautiful, sleek, elegant, and bristling with lasers. This is the ship meant to send Black-Tron scrambling for cover, and it does its job magnificently.
Before 6932 Stardefender 200 arrived, Lego spaceships were pretty much rehashes of a wedge or rocket one after the other. They were wedges and rockets that would go on to be classics and beloved sets, but they could not foretell what was about to arrive when children opened their catalogs in 1987.
Star-defender 200 was like nothing that preceded it, with a completely alien profile that hinted at 2001: A Space Odyssey with its pods, before casting that notion aside and pairing the pods with an epic central fuselage. The whole center was completely dominated by the big transparent blue window, and the 200 emblazoned on its top. Here was Lego innovation screaming; the Golden age hath arrived, with thunder and roar, never forget this creation, for it harkens to the new era. After today everything is changed.
Enough with the theatrics.
Stardefender 200 was one of a handful of sets to introduce the new octagon canopies. It was also in the first wave of Futuron and shared in the small tidal wave of sets with brand new giant canopies. If it was not the best Space set of its time, that's only because it had to share the moment with 6990, the mighty train, yet another innovation in Space.
As with spacecraft from before; Stardefender sported detachable portions indicated by arrow prints, namely the pods. The back of the pods were adorned with transparent red rocket tips ,behind blast cones, that still are the creme de la creme of 1980's Lego space geeks like me.
In a new twist, the pods could be attached to each other. This combination formed a small ship, reminiscent of a Tie Bomber without its panels. Unfortunately; it has no weapons, and is most assuredly an escape system for when a fight goes terribly wrong.
The cockpit covered enough space for two spacemen...the yellow dudes (Oh Goody!) and their handy dandy rover, which was designed to lock into place when the canopy dropped down...albeit, and here is Star Defender's only flaw. You couldn't lock the canopy down, which wouldn't be a big deal, if the canopy wasn't so big as to naturally flop open when given the chance. In this one capacity,
6884 Aero Module
managed to best its greater cousin.
If you are one for space combat, it should be noted that Stardefender 200 has 6 running lights/laser cannons, depending on how you want to decipher its transparent parts. I kind of don't think those coils that loop into camera bricks are meant to merely generate hi-beams. Much of the character of the ship is derived from its front mounted transparent red dishes mounted on pennants. The visual impact denotes a hint of menace, while also adding charm to the model's over all look. This ship is like a swan, elegant, sleek, and if you got too close, like those kids I saw at a park once, you'll discover a violent side beneath its placid demeanor.
Finally, the underside of the ship is festooned with 6 engines. I can only imagine the megaphone part must help swing the ship around to dish out damage almost as fast as a flying saucer. Might as well scream like a banshee: "Dodge this Renegade!" I don't often think about the lack of friction in space, but those megaphone engines offer a nice touch to the propulsion system.
So, that's Stardefender 200, one of the greatest Lego Spaceships ever produced, it was so successful as a design that the shape was revisited in 1991 by Blacktron: Future Generation. My goodness, I finally understand the design influence...perhaps all of Black-Tron: Future Generation is comprised of stolen vessels, and updated Black-tron ships. I never thought of that before, but it could be twisted and skewed to make a certain kind of sense.
Anyways, here's the copycat; 6981 Aerial Intruder. It's not as clean a model, implying that Black-Tron scrapped Star Defender 200 for parts before resuscitating the derelict ship's skeleton after Space Police left a dent in their primary fleet of doom.
Yeah, I like the sound of that...it sounds awesome; and that kids, is how you start a story with Lego.
Now then; let's take a look at 6932's interesting bricks, flotsam, and etc.
2 in white as well

2 in black as well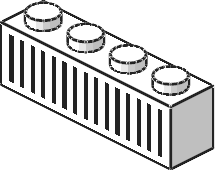 2, this is similar to the part in Cosmic Laser Launcher, but without the removable transparent blue canopy.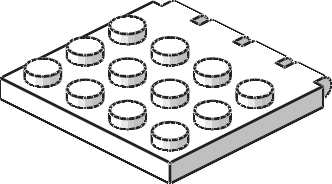 2, also in white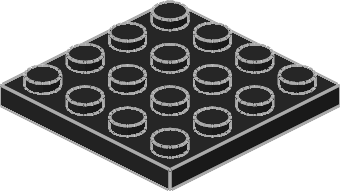 2, also in white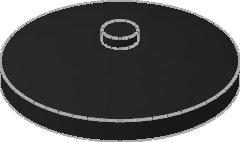 2, also available in white; for some reason I have three in my set...

Unique Parts
1, special print, I'm not overly fond of the 200, as I think the
Cosmic Laser Launcher
print is better, but the 200 adds value to a lineup with five of these window pieces, and that is never a bad thing.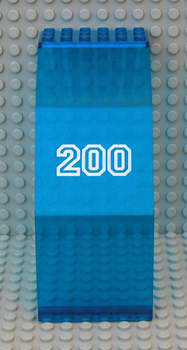 Well, that comes to thirteen pieces, most available in an alternate color. Outside of these elements Stardefender 200 has a much stronger showing of bricks than most of the other sets; 20 percent, or 41 parts, of the set is comprised of non-slope bricks, I wish I could say that was great, but it's barely a splash next to the rest of the line.
Before we discover 6932's building possibilities I thought I might make mention of a singular problem that is prevalent in Futuron sets. There are three colors in Lego that are especially susceptible to sun damage, blue, old light grey, and white. Unfortunately, Futuron's primary color is white, but this can be a double edged sword for both buyer and seller. If you're not especially concerned about sun damage you can usually expect to save some 10-30% by choosing to buy the sets with more aged and sun damaged pieces. Since Star Defender 200 was the first Futuron set I purchased I didn't avoid the sun damaged elements, but since then, I've done my best to avoid the phenomenon in my pickups.
All in all, not too many, and so it wasn't a disaster...just turn them to cover the sun
damaged side. I've heard Oxi-clean will restore sun damaged pieces to the original color, but I've yet to try it.
First up, a small base defender.
Second, here is the coolest alternate I think I've made so far. On one side it carries a small hovercraft.
On the other side, there is a small rover.
I think the fact that I was able to make two small unique vehicles, and attach them without disturbing the look of the main model is great. I have no doubts, parts wise, this is the best balanced Futuron toy.
This was my first collaboration alternate as I had a friend walk in and suggest an engine and access hatch. there's the guy in back servicing it, and you can see the raised panel which separates the pilots from the engine during flight.
All in all, Star Defender doesn't disappoint. If I could ask for anything additional in this set, I guess I'd ask for either, a pair of tools, i.e. walki-talky and wrench, or a small robot with those robo arms...beyond that this set is perfect; and practically all the other Futuron sets have those parts. So...this plus any other Futuron set is automatic bliss.
Before we say goodbye, let me share a little something with you; of all the Futuron sets, this one has the best secondary market prices relative to size, and there's almost always at least one on Ebay. I suppose it might have been super popular, and every 80's kid got one, but for whatever reason, the asking prices for this set tend to be reasonable. So if you were to ask me which Futuron set to buy if you could only get one...Get this one. Best Prices, Best Availability, Best pieces, Star Defender 200 is Best.
Final Grade: A
Pros: Balanced part assortment, easy to get, good market value for buyers, unique print, awesome model
Cons: Yellow Spacemen, No space tools